Poet-playwright Amiri Baraka (LeRoi Jones) published a book in 1963 entitled Blues People: Negro Music in White America. It's an important text, the first book on the blues written by an African American, and is widely considered a major influencer for future studies on relations between African American music and culture.
It is important to note when this book was written. In 1963 Baraka was a young intellectual discovering his voice as Citizen-Poet in the midst of the Civil Rights Movement. To Baraka, the fight for equality did not mean assimilation and sameness, but rather the celebration of culture, creativity, etc. It is no surprise then, that he focused on music as the critical factor for African American cultural identity formation in the US. Baraka's work was popular with leaders of the Black Power Generation, including Malcolm X who Baraka met in January 1965, one month before Malcom X was assassinated. That experience and meetings with similar changemakers had an influence on Baraka, who dedicated his energy to the Black Arts Movement.
As I read all these sources (I'm up to 56/107 on the Music of the Black Atlantic list), Baraka's work is mentioned many times. Ethnomusicologist Travis Jackson considers it to be "perhaps the first booklength study to attempt sustained theoretical argument about the relations between African American culture and African American musical forms" (Jackson 2000). Ethnomusicologist Ingrid Monson has a similar stance: "Baraka ought to be recognized for his contributions to theorizing the relationship between music and race…it is a mistake to view Blues People as simply an artifact of cultural nationalism" (Monson 2007). Other scholars agree, though it is important to note criticisms as well. In 1964, Writer and jazz performer Ralph Ellison published a now-famous review of the book, taking issue with a statement from the introduction – "Blues is the parent of all legitimate jazz" – which he believes puts "the tremendous burden of sociology" on the blues. He also thinks there is too heavy a link placed between social status, racial purity, and musical expression: "One would get the impression that there was a rigid correlation between color, education, income and the Negro's preference in music" (Ellison 1964). Other critics have mentioned Baraka's lack of experience as a musician, a possible reason for errors in his explanation of the elements of varieties of African music that were key ingredients for early blues and jazz.
This is a small but telling sample of how the book was received; the work is largely considered influential and widely praised with some criticisms. Nothing like this had been published before; this was new territory, so scholars have largely forgiven the musical errors for the book's ingenuity.
Music and Culture
At a time when scholars were not typically writing about music and race in a theoretical manner, Baraka set out to prove a hypothesis: Music can reveal much about the cultural significance of African American existence in America, and by extension the culture of American society as a whole. His aim was to explore the emergence of "African American" as a race and as a culture through music development. We've seen this idea supported by other scholars I've blogged about. Matthew D. Morrison's work on Blacksound and the work of authors he referenced demonstrated how Black musical forms defined (and continue to define) popular music in America and abroad, which seeped (and continues to seep) over into popular (non-musical) culture in general. Assumptions are made about who makes certain musical sounds, how those sounds are perceived, what is considered "sophisticated," "authentic," "primal," etc. and how those factors influence societal norms and expectations within and outside of music.
Blues and Jazz
Amiri Baraka considers jazz performance to be a blues-based, ritual activity. His focus is on the path from slavery to "citizenship" in the United States, the music of slavery, and the development of blues and later of jazz. As he explains, "it seems to me that if the Negro represents, or is symbolic of, something in and about the nature of American culture, this certainly should be revealed by his characteristic music."
Baraka believes that the musical experience of slaves in the US is different than that of African Americans. "The weight of the blues for the slave, the completely disenfranchised individual, differs radically from the weight of that same music in the psyches of most contemporary American Negroes…The one peculiar referent to the drastic change in the Negro from slavery to 'citizenship' is his music."
Baraka couples the beginning of the blues with the beginning of African Americans. He uses an analogy to explain what he means:
If you are taken to Mongolia as a slave and work there seventy-five years and learn twenty words of Mongolian and live in a small house from which you leave only to work, I don't think we can call you a Mongolian. It is only when you begin to accept the idea that you are part of that country that you can be said to be a permanent resident. I mean, that until the time when you have sufficient ideas about this new country to begin making some lasting moral generalizations about it -relating your experience, in some lasting form, in the language of that country, with whatever subtleties and obliqueness you bring to it -you are merely a transient.
The development of the blues, in Baraka's opinion, signified that transition from visitor to permanent resident; the blues is heavily influenced by various African musical forms but fuse with the language and culture of America, making it an African American musical form.
Function of Blues Music
This notion of a difference in the function of blues music for slaves vs. African Americans is one of the reasons author Ralph Ellison, a musician himself, so heavily critiques Baraka's book. Ellison feels that this explanation rejects blues as an art form and discounts the role of music for slaves:
"A slave was, to the extent that he was a musician, one who expressed himself in music…from the days of their introduction into the colonies, Negroes have taken, with the ruthlessness of those without articulate investments in cultural styles, whatever they could of European music, making of it that which would, when blended with the cultural tendencies inherited from Africa, express their own sense of life" (Ellison 1964: 254-255).
From Ellison's perspective, Baraka did not recognize the role of music – and the development of the blues – as a critical part of identity formation and artistic/cultural expression for not only free African Americans but also for slaves.
Blues to Jazz
Baraka's book moves from slavery to blues to jazz over the course of a dozen chapters. As we've seen from other authors featured in this blog series, jazz music has the ability to act as socio-political commentary and reflection of African American culture while simultaneously articulating actual and idealized visions of existence. Baraka too recognizes jazz as a powerful tool for communicating African American views of the world and ways of organizing and responding to experience through both performance and listening practices.
Baraka presents a detailed jazz history in his book, starting with the first jazz (or "jass") recording, made by the Original Dixieland Jass Band in 1917. The ODJB was a group of white Italian-American musicians who were inspired by King Oliver's band in New Orleans. As Baraka writes, "They had a profound influence upon America, and because they, rather than the actual black innovators, were heard by the great majority of Americans first, the cultural lag had won again."
Freddie Keppard's Original Creoles – a band whose members were black – was invited to record the first "jass" album a few months prior to the ODJB. Keppard supposedly turned down the offer, believing others would imitate his style. Baraka notes, "that is probably true, but it is doubtful that Keppard's band would have caught as much national attention as the smoother O. D. J. B. anyway." Thus, an African American art form spread across the country through a recording by white musicians.
As the chapters develop, Baraka demonstrates how black jazz music was appropriated by white culture time and again, and how that dynamic affected musical developments in jazz. As we've learned in this series, the development of bebop was a response to frustration with swing music. Baraka emphasizes the ironies of the swing era, calling out Benny Goodman for the "spectacle" of hiring Black musicians such as Teddy Wilson, Lionel Hampton, Charlie Christian, and Cootie Williams in his band in order to make them "big names" in the swing world. He finds this "fantastically amusing," along with the fact that Black musicians hardly won polls won by jazz magazines in the late thirties and early forties. "Swing music…had very little to do with black America, though that is certainly where it had come from."
Benny and Hamp
The rest of Baraka's book continues to go through various jazz eras and point out ways that instances of appropriation, segregation, discrimination, etc. affected music development. However, I want to pause and unpack this statement about Benny Goodman. As a vibraphonist myself, Lionel Hampton's legacy is very important to me – I've played his tunes, read his books, learned about his commitment to jazz education, etc. I was taken aback when Baraka called Goodman and Hamp's relationship a "spectacle." I recalled reading in multiple places that Goodman hired musicians for their talent rather than skin color and that Hamp and Goodman had a good professional and personal relationship. But is this my own white ignorance talking in defense of Goodman?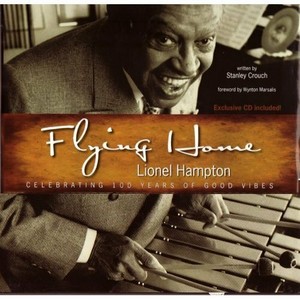 To check, I pulled a book by jazz critic Stanley Crouch off my shelf called Flying Home: Lionel Hampton: Celebrating 100 Years of Good Vibes. I've read this book many times, so I immediately flipped to the section on "The Four Horsemen," the nickname given to Benny Goodman's quartet: Goodman, Hamp, Teddy Wilson, and Gene Krupa. In that section, Stanley Crouch writes about Goodman's perspective on racism and segregation (11):
He viewed the color barrier as merely a pebble to kick out of his path toward the music he wanted to create. He would do what he had to do or take whatever chances he had to take in order to create the best possible music – and Hampton was integral to his quest…Goodman did as much as he could to protect Hampton and Wilson from the prongs of racism. He would insist on contracts that allowed them to stay with the band in hotels. He would even go so far as to hire men to escort them to and from their rooms. While in New York, Goodman would hire a limo to take Hampton and Wilson to Harlem since taxi drivers wouldn't pick up black men, much less drive into Harlem at night.
Crouch positions the quartet as an important force for desegregation, calling them "the harbingers of the end of segregated jazz." He writes that the Benny Goodman Quartet was "the first band to put both black and white musicians on the same stage as part of the regular act. Nervous promoters were warned of race riots during the inaugural tour, but those fears faded as hundreds of thousands of people came out to see the band play without incident." (12)
Those hundreds of thousands of people…did they come for the music, or for seeing a mixed band? If the latter, Baraka's label of "spectacle" may be correct. Perhaps even if Goodman's intentions were mostly good ones, he understood the stir that a mixed band would cause. Baraka's description is harsh, Crouch's is softer. Both Baraka and Crouch are Black Americans, both are writers, both are jazz critics, both were activists in the Civil Rights Movement, and Crouch is a jazz musician himself. How to work through these differing viewpoints? As a white person I don't have the right to decide, and thus have to believe that both perspectives are valid.
Lionel Hampton was a bandleader on the West Coast before meeting Benny Goodman but faced frustration and disappointment due to segregation and discrimination. After a stint playing a steady gig at the Paradise Nightclub in LA he joined Goodman's group and then, propelled by his new fame and popularity, tried his hand leading again in 1940 with the Lionel Hampton Orchestra. This time he was successful, establishing a legacy that has influenced countless musicians, myself included. Would he have had the same legacy and impact if not for his time in the Benny Goodman Quartet? That's not for me to decide.
---
Works Cited
Baraka, Amiri [LeRoi Jones]. 1963. Blues People: Negro Music in White America. New York: Harper Perennial.
Crouch, Stanley. 2008. Fying Home: Lionel Hampton: 100 Years of Good Vibes. Ann Arbor, MI: State Street Press.
Ellison, Ralph. 1964. Shadow and Act. New York: Random House.
Jazz Performance as Ritual: The Blues Aesthetic and the African Diaspora.Jackson, Travis. 2000. "Jazz Performance as Ritual: The Blues Aesthetic and the African Diaspora." In The African Diaspora: A Musical Perspective, ed. Ingrid Monson. New York: Garland Publishing.
Monson, Ingrid. 2007. Freedom Sounds: Civil Rights Call Out to Jazz and Africa. New York: Oxford University Press.
Woodard, Komozi. "Amiri Baraka and the music of life: blues people fifty years later." Transition: An International Review, July 2013. Gale Academic OneFile (accessed July 2, 2020). https://link-gale-com.ezproxy.gc.cuny.edu/apps/doc/A379090639/AONE?u=cuny_gradctr&sid=AONE&xid=5e71ee11.